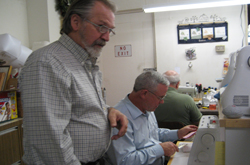 At A-1 Singer Sewing Center we provide our customers with professional quality service and repair most sewing machine brands and models.
Our company is an authorized dealer and service repair center for Brother, Handi Quilter, Pfaff and Singer sewing machines.
Unlike many repair service companies, A-1 Singer Sewing Center offers a one-year warranty on most sewing machine repairs and 60-day warranty on Serger/Overlock machines.
A-1 Singer Sewing Center also sells and carries a wide selection of sewing equipment for beginners and professionals alike.
Accessories for many machine brands as well as notions and supplies.
Horn cabinets and chairs are stocked in a variety of styles and colors.
Embroidery designs from Dakota Collectibles, Anita Goodesigns, Brother,
Pfaff, Singer and many more.
SunHeat Heater and Air Purifiers
Please feel free to contact us directly at 316-685-0226 or toll free at 1-800-725-0226 with any questions or concerns about our services.